Screen black, burnt smell and steaming hot air coming out of the case – the fan broke and the power supply got busted! What to do?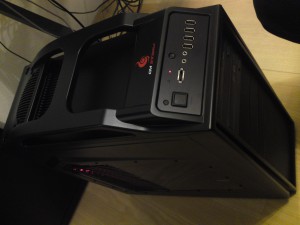 My original Arctic Silentium T2 had a built-in custom factored PSU, which made it nearly impossible to replace it, without spare parts from the supplier (which are not available by our vendor).
While I'm not the case modder freak or anything, my only option was to buy a new case which was a worthy replacement and not too expensive and my eye (and feature sense) fell in love with the Cooler Master Storm Scout.
After assembling it carefully over hours, I'm quite convinced of that rig. I thought I could as well share some pictures…
I must add, that the cooling which the new case offers is enormous and specially for gaming and when the air around it becomes hotter, this is the ideal solution as you can basically fit in as many fans as anyone could think of.
And below is how my new gear looks like: